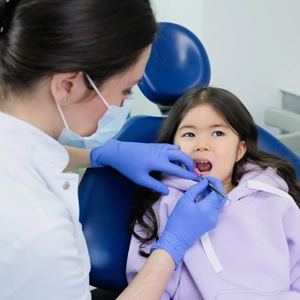 What are dental emergencies?
Dental emergencies can occur at any time and for a variety of reasons. They can leave your child in pain and severe discomfort. We offer emergency care for both new and existing patients and can always provide help for children who need urgent dental care.
Why is emergency dental treatment needed?
If your child is experiencing an emergency and forgoes treatment, the problem will often get worse. It's very rare for dental problems to go away on their own without professional treatment. Untreated dental emergencies can often cause minor issues to become more major, requiring extensive and invasive treatment to repair the damage. This is why we always recommend being seen right away as soon as you notice your child is having a dental problem.
What are some common dental emergencies?
A dental emergency can be any condition that causes your child pain or severe discomfort. We provide care for a variety of different emergency situations, some of the more common emergencies we handle on a daily basis include:
Pain and toothache
Abscesses and infections
Postoperative emergencies
Orthodontic emergencies
Cracked, fractured, or broken teeth
Loose or lost restorations
What happens during an emergency dental appointment?
We will begin your child's appointment by asking about the problem. This gives us the ability to determine if an x-ray is needed. If the x-ray is needed, it will be taken at this time and used to help diagnose the issue. We then work to examine your child's teeth and mouth to determine the best treatment plan, which we can perform immediately. If your child has an infection, we will recommend that they take antibiotics in addition to any type of necessary treatment or procedure.
If your child is having a dental emergency, call our office today and we can assist in immediate treatment.